Welcome to Lasting Impressions Gifts, Ottawa's favourite gift shop!
We are here to help find the special gift for any occasion from our broad selection of quality and unique gifts.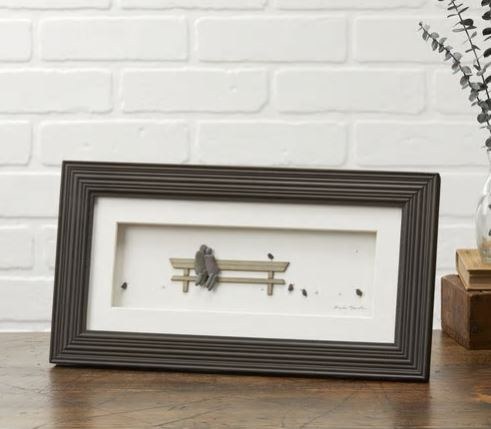 Always There Wall Art
Item Number: 69750
$79.99
Celebrate your special bond with loved ones by sharing this serene representation of family and togetherness. This is wall art that evokes deep, sentimental emotions and joy. As a gift, it's a unique and lasting expression from the heart. A moving piece of wall art depicting two people on a park bench, enjoying time together while birds frolick around them. Commemorate such moments in life with this framed reminder. Sharon Nowlan's wall art is a sentimental gift for that special person in your life, or a stylish addition to your own home. Sharon Nowlan is inspired by the natural beauty of Nova Scotia. Her designs include materials representing pebbles, shells, twigs, driftwood and bits of glass. Each piece is meticulously and ethically handmade by skilled artisans. This collection of unique, framed wall art captures life's small moments and celebrates family and friendship. Wood, Paper, Glass, PVC. Measures 15 inches W x 8 inches H Backer style: easel.